NCBS To Welcome Spring Brookdale Bluegrass Festival To Mount Cross Camp March 9-11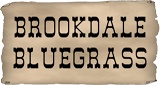 Update: The festival has been moved to the San Benito County Historical Park in Tres Pinos. More details soon.
—
The Northern California Bluegrass Society will welcome the 2018 Spring Brookdale Bluegrass Festival. The March 9-11 event will be presented by Brookdale Bluegrass and set for the Mount Cross Camp in Felton.
The venue offers a variety of housing options, ranging from rooms to campsites. There is limited RV parking. The location is on Highway 9 at the Felton/Ben Lomond border.
Performers will include AJ Lee & Blue Summit, The Honeysuckle Possums, The Wildcat Mountain Ramblers, The Stoney Mountain Ramblers, Toby Gray & His Harlan County Covey, Wendy Burch Steel & Redwood, Laura Lind, Ben Lomond & The Highway Niners, BanjerDan, plus host band The Brookdale Bluegrass Band.