Brookdale Bluegrass Festival Announces Updated Line-Up And Location, March 9-11 Dates Stay The Same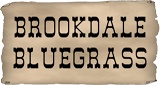 The Brookdale Bluegrass Festival will be held March 9-11, 2018 at the San Benito County Historical Park, Tres Pinos (note new location).
The line-up: AJ Lee & Blue Summit, The Honeysuckle Possums, Jeff Baldwin & The Harmony Grits, The Wildcat Mountain Ramblers, The Stoney Mountain Ramblers, The Lonely Bird Band, Toby Gray & His Harlan County Covey, Crying Uncle, Laura Lind, Brent Pierce Family & Friends, The Naked Bootleggers, Ben Lomond & The Highway Niners, BanjerDan, plus host band The Brookdale Bluegrass Band.
The festival is presented by Brookdale Bluegrass and welcomed by the Northern California Bluegrass Society.