Brookdale Bluegrass Festival To Be Held March 9-11, 2018 In Tres Pinos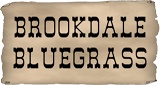 The Spring 2018 Brookdale Bluegrass Festival will be held at the San Benito County Historical Park in Tres Pinos on March 9-11.
This is the same venue that will host the August 9-12 NCBS Good Old Fashioned Bluegrass Festival. (The 2018 Brookdale event was previously announced for the Mount Cross Camp in Ben Lomond.)
The festival will be held indoors and both tent and RV camping will be available. Some shows will be held indoors and others outdoors.
The Brookdale Bluegrass Festivals are presented by Brookdale Bluegrass and have been held at various San Lorenzo Valley venues since 1998. All Brookdale festivals have been welcomed by the Northern California Bluegrass Society.