Spring Brookdale Bluegrass Festival To Be Held At New Venue In Tres Pinos On March 9-11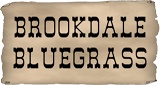 The Spring Brookdale Bluegrass Festival will be held at a NEW VENUE, the San Benito County Historical Park in Tres Pinos.
The event has previously been held in the Santa Cruz Mountains several times each year since 1998. This year's festival is set for March 9-11, 2018.
Shows will be held both indoors and outdoors. Camping is available.
Complete Brookdale Festival Schedule
The festival is presented by Brookdale Bluegrass and welcomed by the Northern California Bluegrass Society.