Spring Brookdale Bluegrass Festival To Be Held March 9-11 In Tres Pinos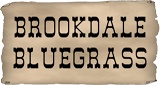 The Spring Brookdale Bluegrass Festival will be held for the first time at the San Benito County Historical Park in Tres Pinos on March 9-11. This venue is already familiar to area bluegrass fans as the home of the NCBS Good Old Fashioned Bluegrass Festival, set for August 9-12, 2018.
The Brookdale festival is presented by Brookdale Bluegrass and welcomed by the Northern California Bluegrass Society. Shows will be held indoors, but the Saturday afternoon performance will be outdoors if weather permits. Camping is available for both tents and RVs.
Brookdale Performance Schedule