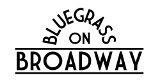 The Edgewood Mountan Boys will perform as part of the Northern California Bluegrass Society's 10th Annual Bluegrass On Broadway Festival on Saturday evening, January 28, 2017 at the Freewheel Brewing Company.
The energetic "roaming hillbilly" band  is from Redwood City and has emerged as the Peninsula's hottest new bluegrass band over the past year.
The weekend-long FREE festival will be held at various venues in Redwood City and is principally-financed by a grant from the Redwood City Civic Cultural Commission.