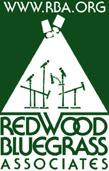 The Northern California Bluegrass Society will welcome a Redwood Bluegrass Associates concert with Dale Ann Bradley & Steve Gulley that is set for Saturday, December 6 at 7:00pm. (Doors open at 6:30pm — note new times.)
The concert will be held at the Immanuel Lutheran Church, 1715 Grant Road, Los Altos (about 10 minutes away from the usual RBA show location at the church in Mountain View).
Two jams will precede the show — a regular open jam and a special slow jam hosted by John Kornhauser. Both will begin at  4:30pm.
The concert and the jam are part of a monthly RBA concert series that will continue through May.
This season, RBA concerts will take place in various locations in Palo Alto, Mountain View, and Los Altos.