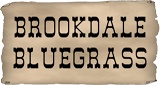 Brookdale Bluegrass has announced the line-up for the 19th Annual Springfling Brookdale Bluegrass Festival, set for March 18-19, 2016 in Boulder Creek.
The festival is held twice a year in the San Lorenzo Valley. All Brookdale Bluegrass events since 1998 have been welcomed by the Northern California Bluegrass Society.
The Bands: The Townhowlers, Wildcat Mountain Ramblers, David Holodiloff Band, Alison Steele, Hunter Austin Project, Toby Gray Highway Buddha, Brookdale Bluegrass Band, True Life Troubadours, and more.
Due to the ongoing renovation of the festival's original home, the Brookdale Lodge, the March gathering will be held at Scopazzi's Restaurant in downtown Boulder Creek. Additional details will be announced shortly.