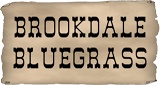 The Northern California Bluegrass Society welcomes The Naked Bootleggers and the Brookdale Bluegrass Band to the Springfest 2015 at its new location high in the Santa Cruz Mountains.
Complete Festival Band Schedule
The festival has been presented by Brookdale Bluegrass since 1998 at various Santa Cruz area venues. All of the gatherings have been welcomed by the NCBS.
The March 6-8 festival will be held at The Great Room between Soquel and Los Gatos (off of San Jose-Soquel Road) with three days of stage performances, workshops, camping, and jamming.