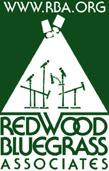 The Northern California Bluegrass Society welcomes Blue Diamond Strings to the opening concert of the 2014-2015 Redwood Bluegrass Associates Concert Season. The new traditional bluegrass and old-time band is a collaboration of bluegrass veterans Eric Thompson, Kate Brislin, Jody Stecher, Suzy Thompson, Paul Shelasky, and Paul Knight.
The Saturday, October 18 concert will be held at the First Presbyterian Church Of Mountain View. Note that this season, the southern Peninsula RBA concert series will be held at several different venues in Palo Alto, Los Altos, and Mountain View.
An open jam will precede the concert as in past years.
New this year: A slow jam will also be available. Jack Tuttle (of The Tuttles With A. J. Lee and Gryphon Stringed Instruments) will lead the October slow jam session.
The jamming begins at 5:00pm and the concert will follow at 7:30pm (concert doors open at 7:00pm).