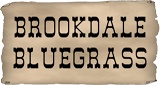 Scott Gates (of the The Salty Suites) and Eric Antrim (of the Knock On Wood Players) have been added to the line-up for the December 12-13 Costanoa Winterfest 2014 at Costanoa Lodge & Campground near Pescadero.
The festival is presented by Brookdale Bluegrass and welcomed by the Northern California Bluegrass Society.
Admission-free Friday day and evening is reserved for jamming. Saturday will feature a full schedule of performances, with jamming to follow.
Onsite lodging and camping is available throughout the weekend.